Cyber R&D: The Strategic Advantage
Star Shot Research aims to create a strategic advantage for our customers by pushing the cyber domain towards its fundamental limits. We look to prevent surprise attacks by understanding and anticipating the path that bad actors will exploit. In order to do this, experience with the technologies involved and tactics used are critical.
Dynamic Defense and Resiliency
The most dangerous of cyber threats is often the one we can't see coming. And to make things worse, you don't know you're compromised until it's too late. Star Shot Research is investing in concepts and architecture designs that provide the capability to dynamically identify, report and resolve vulnerabilities with the attack in mind. There are an abundant amount of tools available in the market today for Security Information and Event Management (SIEM) for real-time analysis. The strides made in these capabilities in recent years have been phenomenal but more can be done.
Star Shot Research wants to take these capabilities to another level with system countermeasure design for Industrial Control Systems, Information Technology (IT) Systems and Embedded Systems. Our unique experience in the cyber domain is rich with system modeling and offensive penetration testing. With this knowledge we have leveraged cyber-resiliency techniques as a part of our research and development process to account for how a system can anticipate and withstand an attack, recover to an operating state and adapt dynamically to weaknesses.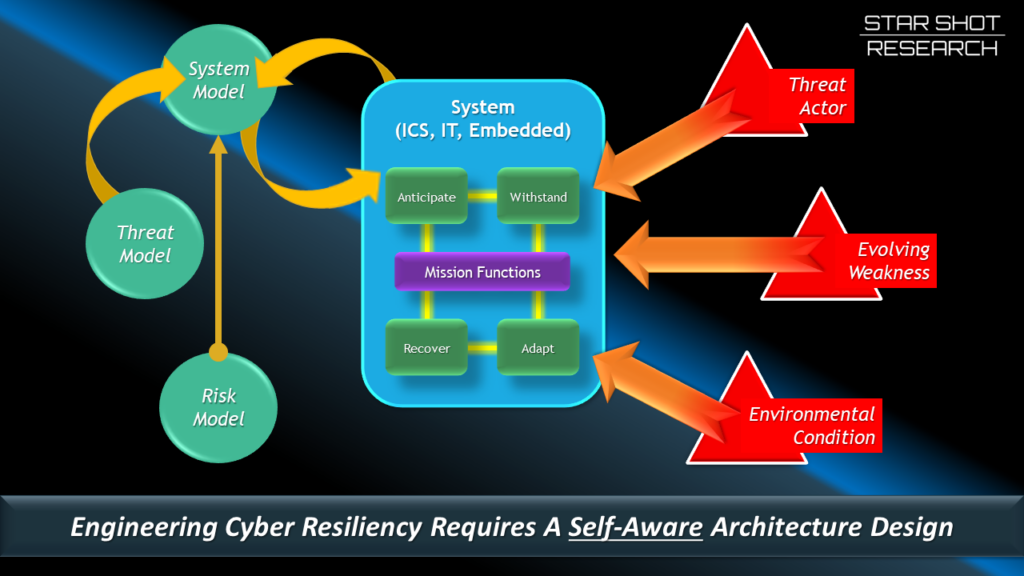 The Future is Cyber Resiliency Engineering
Star Shot Research is focused on pursuing cyber resiliency engineering to develop survivable and secure systems for mission, business or industry. We intend to bring novel and well thought-through architectural design approaches that take into consideration capabilities that anticipate, withstand, recover from, and adapt to adverse conditions, stresses, attacks, or compromises.